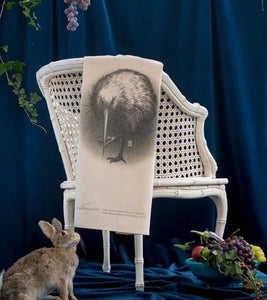 Wild Grey Fox
Wildgreyfox Tea Towel - Kiwi
Regular price
$20.00
$0.00
Tax included.
Natural Kiwi Tea Towel (Organic)
White Kiwi
"Wearing the Inside Out"
100% Natural, unbleached organic cotton

About the White Kiwi
About Wearing the Inside Out

Nikki McIvor drew the iconic white Manukura in this in this pen & ink drawing entitled "Wearing the Inside Out", a song by Pink Floyd. The name signifies a connection to the Maori feather cloak in that the kiwi is wearing her purity on the outside rather than keeping it shielded.
Nikki McIvor, artist

Wild Grey Fox reproduces images by Nikki McIvor onto prints, cards and homewares like tea towels, reusable jute and cotton grocery bags. Our aim - objects that are lovely to use, ecologically responsible and made to last.