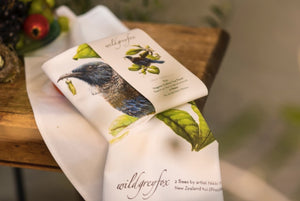 Wild Grey Fox
Wildgreyfox Tea Towel - Tui
Regular price
$18.00
$0.00
Tax included.
Tui Tea Towel
Tui
100% Organic Cotton Tea Towel 
The cotton is flat and takes a detailed print well.

Based on the original artwork 2 Trees by artist Nikki McIvor
Designed & printed in New Zealand on organic cotton from India, 
produced in a Fair Trade certified factory that only processes organic cotton.
 
Wild Grey Fox translates images by Nikki McIvor onto prints, cards and homewares like tea towels, reusable jute and grocery bags as well as gift tags. Our aim - objects that are lovely to use, ecologically responsible and made to last.